Puppy Preschool socialization at Animal Hospital of North Asheville teaches puppies healthy social skills through positive activities aimed at encouraging investigation and interaction in a  positive and supervised environment.
*In accordance to regulations to prevent COVID-​19, we are unable to hold in hospital Preschool Sessions. We are currently offering Puppy Preschool Support online for puppy families. To sign up, please email us.
About Puppy Preschool
The experiences your puppy has between three to sixteen weeks of age form lasting social behaviors. For this reason, it is critical for puppies to have many positive experiences with new people, sights, smells, sounds, and other dogs during this period.
Puppy Preschool classes are designed to help create more of these positive experiences. We'll work with you to socialize your puppy with other people, other puppies, and common situations, and to strengthen your bond with your new best friend at the same time.​Puppy Preschool is for puppies who are 8-16 weeks of age and have fulfilled the requirements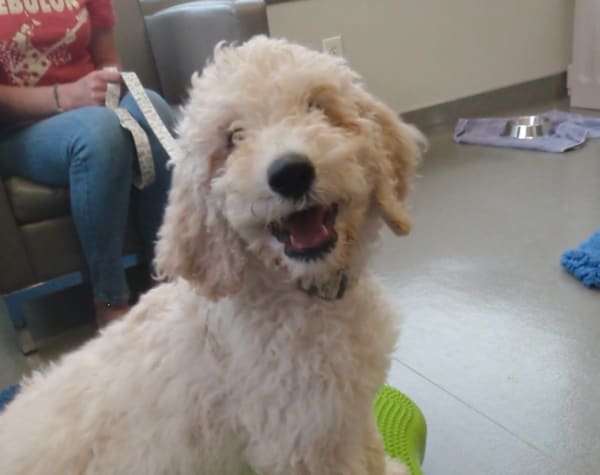 Puppy Preschool Sessions
Puppy Preschool is open enrollment, meaning you and your puppy can sign up week to week while they are in the age range. Just be sure to contact us ahead of time to book a space in the next available class.
Once signed up, please arrive for your Puppy Preschool session 5 minutes before your session.
The session begins with the puppies practicing "sit" or other focused commands, to let them know they need to be settled before they get to play.
After that, each class has four basic elements.
Puppy-to-Puppy Socialization
During puppy-to-puppy socialization, your puppy will meet and get to know other pups of various breeds and sizes and with different play styles.
These interactions will help teach your puppy important canine communication skills, and how to get along with other dogs.
Training Topics
We will introduce you to positive training methods and explain how to teach your pup simple behaviors. Topics include clicker training, leave it/drop it, hand targeting, polite greetings, nail trimming, dental care and more.
For more in depth obedience training, we recommend signing up for a basic manners class with one of these recommended trainers. 
Exploration
 We will introduce your puppy to a variety of stimuli, to build confidence, including obstacle courses, different surface textures, people in different costumes, scent games, puzzle toys, household items, sounds and toys.
Puppy-to-People Socialization
It is crucial that your puppy meets lots of different, unfamiliar people. Your pup will have the chance to socialize with other puppy parents in a low stress setting.
Puppy Preschool FAQs
Certified Professional Dog Trainers
At this time AHNA does not offer training sessions. Here is a list of trainers in the surrounding areas that use positive force free methods.