Fear Free Certified Veterinarian Dr. Kasandra Garner provides comprehensive, compassionate veterinary care to our Asheville patients.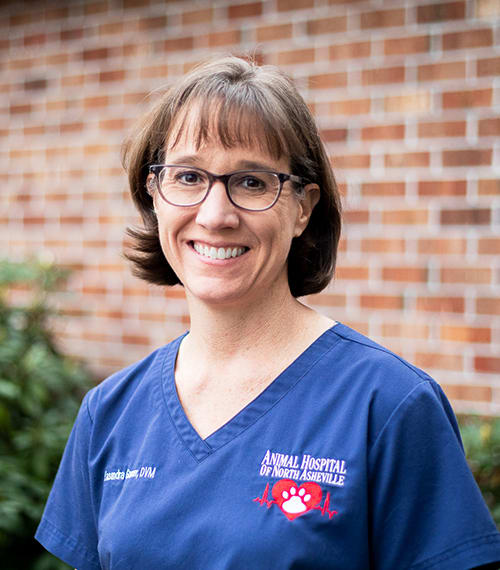 About Dr. Garner
We are thrilled to welcome Kasandra Garner back to Animal Hospital of North Asheville! Dr. Garner is well known to many of us at AHNA because she worked here as a compassionate member of our Patient Care Team in the late 1990's before she attended veterinary school. We feel very fortunate to have her back now as a veterinarian who is very well qualified to provide the best of care to our patients.
Dr. Garner's earliest memories are of dogs and cats. Her first best friends were a tabby cat named Lisa and an Irish Setter named Tawny. She spent her childhood reading all of the classic dog and cat books, and when a librarian in fourth grade recommended the novels of James Herriot, she knew she had to become a veterinarian. She graduated Cum Laude from UNC-Asheville in 1994 and taught school for four years before applying to veterinary school.
Dr. Garner graduated from North Carolina State University College of Veterinary Medicine in 2003 as a member of Phi Zeta, the National Honor Society of Veterinary Medicine. She owned a small animal practice in rural Alabama for 13 years before returning to Asheville.  She enjoyed bringing high-quality small veterinary care to that area and educating clients on ways to increase the quality and length  of their pet' lives. During her time in the area, she was gratified to see a community-wide improvement in animal care and welfare.
Dr. Garner enjoys getting to know each pet and their family. She believes that wellness for our pets is multifaceted, encompassing not only their physical health but also their emotional and mental well-being and their environment. Dr. Garner is devoted to low-stress care for dogs and cats, so she is thrilled to be working at AHNA where our goal is to be fear free for all patients. Dr. Garner is proud to be a Fear Free Professional.
Dr. Garner has a full and fun filled life living with a loving husband, 2 wonderful children, 5 dogs, 3 cats, and 2 horses.  Her dogs range in size from  a 14 pound chihuahua mix to a 8- pound catahoula mix. Her goal in life is to never live in a fur-free house. 
Dr. Garner enjoys riding horses with her daughter, hiking with her dogs, bicycling with her husband and son. She has completed two Ironman distance triathlons and many marathons and ultras.