The Food and Drug Administration (FDA) recently released an updated report identifying 16 brands of dog food that had been linked to heart disease in dogs.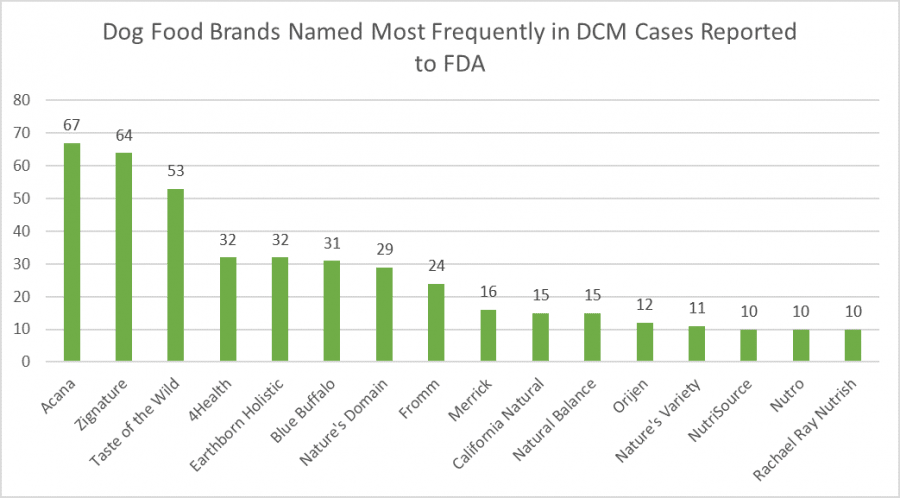 First reported, in July 2018, the FDA announced that it had begun investigating reports of canine dilated cardiomyopathy (DCM) in dogs eating certain pet foods, many labeled as "grain-free," which contained a high proportion of peas, lentils, other legume seeds (pulses), and/or potatoes in various forms (whole, flour, protein, etc.) as main ingredients (listed within the first 10 ingredients in the ingredient list, before vitamins and minerals). Many of these case reports included breeds of dogs not previously known to have a genetic predisposition to the disease. The FDA's Center for Veterinary Medicine (CVM) and the Veterinary Laboratory Investigation and Response Network (Vet-LIRN), a collaboration of government and veterinary diagnostic laboratories, continue to investigate this potential association.  (source: FDA)
What is Canine Dilated Cardiomyopathy (DCM)?
DCM is a disease of a dog's heart muscle that results in weakened contractions. leaking of heart valves, and poor pumping ability, which can lead to an enlarged heart and congestive heart failure and even death.
Causes?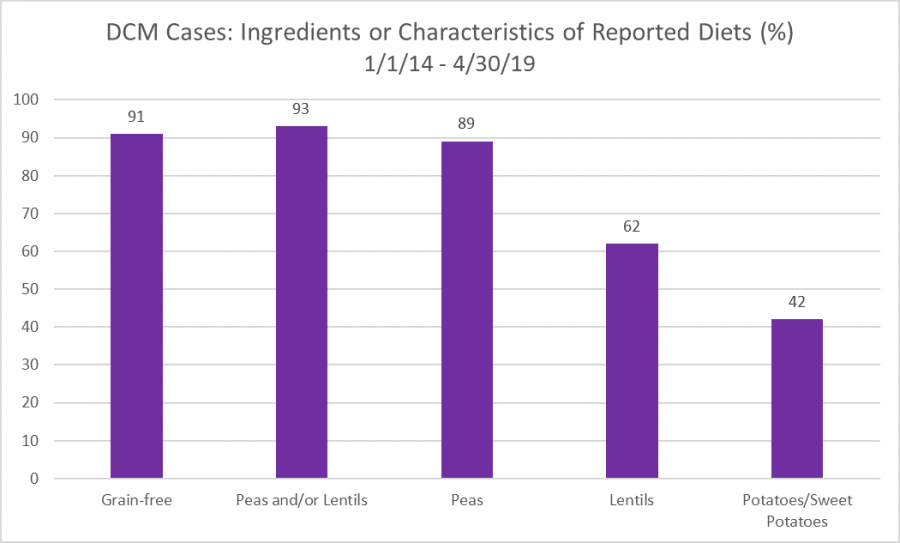 The FDA has still not discovered a definitive cause and effect situation, but taurine availability is suspected.  Taurine is an amino acid that is required in pets and heart health. Based on the data collected and analyzed thus far, the agency believes that the potential association between diet and DCM in dogs is a complex scientific issue that may involve multiple factors. Do not add a Taurine Supplement to your dog food without consulting your veterinarian first.
At this time we, at the Animal Hospital of North Asheville, are not recommending Grain-Free Diets until we know more as to the link between them and heart disease.  If the diet is designated as a "grain-free" diet or contains the above ingredients, it would be advisable to transition your pet to another diet.  If you have questions or if your pet is on a special diet due to a medical condition, please consult your veterinarian about any dietary changes. 
In general, when transitioning to a new food, it is recommended to gradually introduce it over a period of 10-14 days. This helps avoid stomach upset and makes sure your pet tolerates the new food.  You can slowly introduce 1/4 of the new diet with 3/4 of the old diet for several days, then go to a 1/2 and 1/2 mixture for several days, and then 3/4 of the new diet with 1/4 of the old diet for several days.
There are maintenance diets available through pet stores that contain more limited ingredient protein sources such as fish, lamb, and venison but are not considered "grain-free". 
If your pet has a history of skin or food-related allergies, there are several prescription diets available that can be used in place of the grain free diets including:
Science Diet Z/D - a hydrolyzed protein diet- good for both digestive and skin issues 
Royal Canin Hydrolyzed Protein HP - good for both digestive and skin issues 
Royal Canin Skin Support -  for allergic dermatitis and skin conditions
Royal Canin Gastrointestinal Low Fat - for food allergies (diarrhea primarily)
Science Diet I/D  - for food allergies (diarrhea primarily)
Purina Proplan Hydrolyzed Formula - good for both digestive and skin issues
To learn more about the FDA report and Grain Free Diets, please click on the links below:
FDA: Questions and Answers On Grain-Free Diets and Heart Disease