Make sure your pet is happy and healthy with routine cat and dog vaccinations and parasite prevention from our vets at Animal Hospital of North Asheville.
Disease Vaccinations & Parasite Prevention
Vaccinations and parasite preventives help fight parasites and common diseases from threatening your pet's health. Combined with regular wellness exams, they are key measures in the routine healthcare for your cat or dog.
Together, we'll create a customized preventive care plan, which will include vaccines and parasite preventives that work with your pet's individual healthcare needs and lifestyle.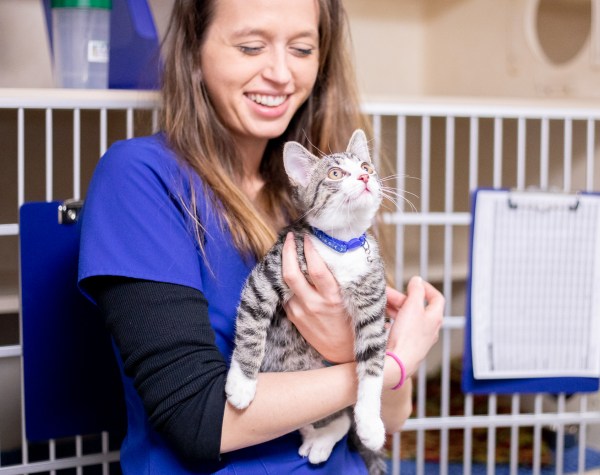 Vaccinations for Kittens
In their first year, kittens need multiple vaccinations and other procedures to protect against serious diseases.
Vaccinations for Adult Cats
Adult cats need a core vaccine booster one year after completing the initial round or "kitten series" vaccines. We will develop a plan for your cat based on the specific vaccine and the lifestyle and needs of your cat, additional boosters are generally needed every one to three years. We use nonadjuvented feline only vaccines to provide the safest vaccines for your cat. 
Vaccinations for Puppies
As their immune system develops In the first year, puppies need multiple vaccinations to protect against serious disease.
Vaccinations for Adult Dogs
Following the initial round or "puppy series" vaccines, your dog will need core vaccine boosters beginning at the one year mark and continuing every one to three years thereafter, depending on the specific vaccine and your dog's lifestyle and needs. We will develop a plan to rotate your dog's core vaccines for continued protection for your dog using the least amount of vaccine possible.
Preventing Parasites
When left unaddressed, parasites infestations can be life-threatening. At your pet's annual physical exam, we ask you to bring a stool sample to check your pet for intestinal parasites. Your veterinarian will also talk with you about recommended heartworm testing.
Learn More About Parasite Prevention
Our parasite prevention products will help protect your pet against the following common parasites: