At Animal Hospital of North Asheville, our veterinarians offer high quality dental care for your cats and dogs, including teeth cleaning, dental check-ups and dental surgery in Asheville.
Veterinary & Pet Dental Care
You may be surprised to learn that periodontal disease is the most common disease for pets. Just like humans, they can also suffer from cavities, orthodontic problems and broken teeth.
Our veterinary team offers complete veterinary pet dental care, including dental surgeries, dental x-rays, cleaning and polishing your pet's teeth, and educating you on home dental care options.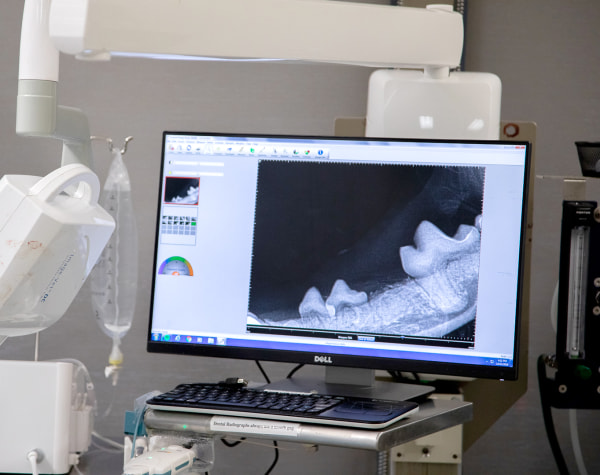 Cat & Dog Dental Checkups and Cleanings
It is estimated that more than 80 percent of dogs and 70 percent of cats develop tooth and gum disease by the age of three years. ​
Pets should have a dental examination on an annual basis, but some cats and dogs are more prone to dental issues and may require more frequent visits.
At Animal Hospital of North Asheville, we assess, treat, and help prevent your pet's potential dental problems.
Veterinary Dentistry Anesthesia
During your dentist visit, you know you are undergoing dental procedures to help keep your mouth healthy. Your pet, however, does not understand this. To reduce stress and pain for your pet while still performing required dental procedures effectively, we use anesthesia.
Anesthesia is individualized for each pet based on the type of procedure, pre-existing conditions, blood test values, age, breed and prior anesthetic experience.
We limit the amount of anesthesia (without sacrificing pain control) by employing pre-medications, local anesthetics, epidurals and by using continuous rate infusions of pain medications. Your pet's anesthesia time is also reduced by having a highly trained and organized surgery team, utilizing the most up-to-date instruments that shorten surgery procedure time.
By using these instruments, we can cut your pet's anesthesia and surgery time by up to 50 percent. In order to provide the safest anesthesia experience possible, we test our anesthesia machines prior to each use and have them tested and certified yearly by an independent professional company.