According to the United States Fire Administration, an estimated 500,000 pets are affected annually by fire. The American Kennel Club and the ADT Security Services created the Pet Fire Safety Day to be celebrated on July 15th. This day is dedicated to raising awareness of the fire hazards beloved pets could pose in the home, but, more importantly, how to prevent them. Many fires in the home can be a result when pets and potential fire hazards mix. 

House fires can be devastating with the loss of life and home and can have lifelong consequences. Pet families should take advantage of the day to discuss fire safety plans for the household which include escape routes for families, how to evacuate pets, disaster preparedness kits, and plan for fire prevention. 
Here are a few Fire Prevention Tips from the American Kennel Club (AKC), ADT Security Services and the American Red Cross:
Extinguish open flames – Pets are generally curious and will investigate cooking appliances, candles, or even a fire in your fireplace. Ensure your pet is not left unattended around an open flame, and make sure to thoroughly extinguish any open flame before leaving your home.
Remove stove knobs – Be sure to remove stove knobs or protect them with covers before leaving the house. According to the National Fire Protection Association, a stove or cooktop is the number one piece of equipment involved in your pet starting a fire.
Invest in flameless candles – These candles contain a light bulb rather than an open flame and take the danger out of your pet knocking over a candle. Cats are notorious for starting fires when their tails turn over lit candles.
Beware of water bowls on wooden decks – Do not leave a glass water bowl for your pet outside on a wooden deck. The sun's rays, when filtered through the glass and water, can actually heat up and ignite the wooden deck beneath it. Choose stainless steel or ceramic bowls instead.
Keep Pets Near Entrances When Away From Home – Keep collars on pets and leashes at the ready in case firefighters need to rescue your pet.  When leaving pets home alone, keep them in areas or rooms near entrances where firefighters can easily find them. 
Secure Young Pets – Especially with young puppies, keep them confined away from potential fire-starting hazards when you are away from home such as in crates or behind baby gates in secure areas.

Since Pets Left Alone Can't Escape a Burning Home – Consider using monitored smoke detectors which are connected to a monitoring center so emergency responders can be contacted when you're not home. These systems provide an added layer of protection beyond battery-operated smoke alarms. 
Affix a Pet Alert Window Cling/Decal – Write down the number of pets inside your house and attach the static cling to a front window. This critical information saves rescuers time when locating your pets.  Make sure to update the number of pets listed.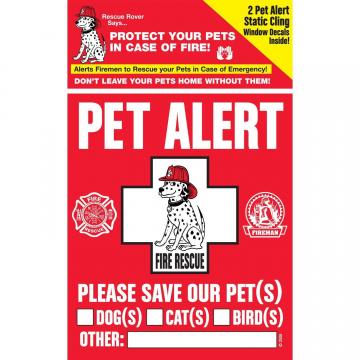 NOTE: There are many on-line sources for decals. The photo of the decal above is from Amazon.com.

Include Them in Your Family Plan – This includes having their own disaster supplies kit as well as arranging in advance for a safe place for them to stay if you need to leave your home.
Make Pets a Part of Your Escape Plan – When you practice your escape plan, practice taking your pets with you. Train them to come to you when you call. Crate/Carrier Train your cat and dog


Your Pet's Safety is Important, but Yours is, Too – In the event of a disaster, if you must evacuate, the most important thing you can do to protect your pets is to evacuate them, too. But remember: never delay escape or endanger yourself or family to rescue a family pet.
ASPCA Pet Safety Packet: In the event of an emergency, our pet rescue window decal alerts rescue personnel that pets are inside your home. The safety pack also includes an ASPCA Animal Poison Control Center magnet—a great way to keep the APCC's toll-free emergency number and website address handy in case your pets get into something they shouldn't! There is a request for a donation for this packet. 
Pet Safety Alert through Amazon.com: 2 pack of static cling window decals for pets. Also, Rescue Decals can be purchased at several pet stores. 

Asheville Smoke Alarm Request: You must live within the city limits of Asheville in order to receive this service. If you don't have a working smoke alarm, complete this form. The Fire Department will contact you to make an appointment to conduct a home safety visit. An adult must be present during the visit.
 Information originally at AKC.org
7/2019