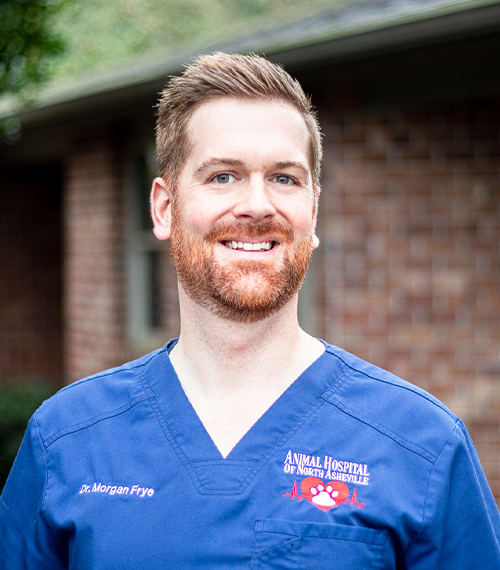 About Dr. Frye
Dr. Morgan Frye grew up loving his pets in West Virginia, but it was the care and concern the veterinarian showed while splinting his pet quail's broken leg that sparked Dr. Frye's interest in veterinary medicine. After majoring in biology at Marshall University (Go Herd!), Dr. Frye attended veterinary school at the University of Georgia and graduated in 2014. Since graduating from veterinary school, Dr. Frye has continued to learn through taking advanced classes in ultrasound and orthopedic surgery and is Fear Free Professional certified. He feels lucky to be a veterinarian because he especially values the relationships that he develops with his patients and their families. The only thing he enjoys more about his job is helping sick pets recover to full function so that they can enjoy their lives with the people they love. Dr. Frye's special interests include caring for cats and dogs, ultrasound, soft tissue surgery, and orthopedic surgery.
Dr. Frye joined the AHNA team after caring for patients in a Chicago veterinary practice, so he is especially appreciative of Asheville's milder winters, beautiful hiking trails, and opportunities to bike. Dr. Frye feels fortunate to share his life with his beautiful wife, Amanda, and their two mixed breed dogs and their cat. Sully, who is full of energy, and sweet Orca, are excited to join him on the trails while enjoying Asheville's great outdoors. His beloved cat Sebastien, on the other hand, is happy simply to find a spot in the sun for a good nap.
When not taking care of AHNA's patients and their families, Dr. Frye enjoys cooking, biking, running, and gardening.