What should I think about when considering a small dog?
Size: What is your own environment like, and what are the personalities of the people the dog will be living with?
Since some breeds may be more fragile than others, carefully consider whether a small dog is for you if you have a crew full of young, excitable kids who love to run and play. Though they require more grooming and walks and need a bigger yard, a larger, more confident pooch may be a better fit in these cases.
Live in a small space? Read about the best small dogs for apartment living. Size may be a significant factor when thinking about the best fit for your family.
Care Needs: What specific needs should you consider when it comes to that pup you've been eyeing? While all dogs need love, attention, food and routine veterinary care, many have known health risks or specific grooming requirements.
Who will walk it most of the time? Objectively consider your new pet and who will be responsible for most of its training and daily care.
Energy: While some dogs are content to curl up next to you for a nap while you read, others love spending their days running and playing in a big backyard with a brood of children, or hiking with their owners.
Before looking for your new four-legged friend, decide among the family whether you're seeking an adventurous canine or a cuddly pup.
Temperament: From laid-back and calm to joyful and playful (or anywhere in between), dogs' personalities are unique. Ensure your new pet's temperament is a match for your crew's.
Small dogs breeds
Now that you know which factors to consider when choosing a dog, let's look at a few small dog breeds (but not limited to) that tend to do well living in apartments or kids. Remember each dog is unique and has a different personality. Be sure to learn about the breed or breeds (in a mixed breed dogs). Spend time with your possible new dog to see if their personality is a match for your lifestyle. 
French Bulldog
French Bulldogs are humorous companions who can be generally trusted to be gentle around children. Known couch potatoes, they are also mischievous pups who will be content with a daily walk to keep them in shape.
They also serve as great watchdogs thanks to their alertness. You'll look forward to low maintenance needs due to its short coat - this pooch will only need an occasional brushing.
Beagle
Known for its friendly, happy-go-lucky nature, the beagle is an intriguing combination of even temperament, pack instincts and gentle disposition - an ideal choice for families with kids. Plus, its short coat makes grooming easy.
Poodle
These pups are eager to please their owners. Playful dogs with a fondness for people, they bring a sharp sense of intelligence and agility to the table, which makes training fun - and easy.
Just be sure to give them appropriate exercise and mental stimulation, as their energetic nature needs to be used constructively. They may also need training to curb the instinct to rule as alpha dog.
Cavalier King Charles Spaniel
This gentle, sweet and attentive toy spaniel is ideal for a family looking for a canine companion who will be happy with children, or in an apartment. Not to worry if you have another canine, either - their amiable nature makes them fast friends of both the two-legged and four-legged variety.
This breed's athleticism means they'll be up for playing catch or chasing squirrels around your backyard.
Do you have specific questions about small dog breeds or the veterinary care they require? Our veterinarians can provide full physical examinations and give health and nutritional advice. Contact Us today.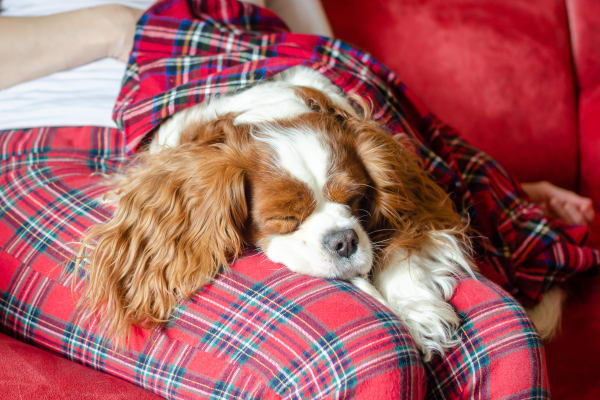 Looking for a vet in Asheville?
We're always accepting new patients, so contact our veterinary hospital today to book your pet's first appointment.