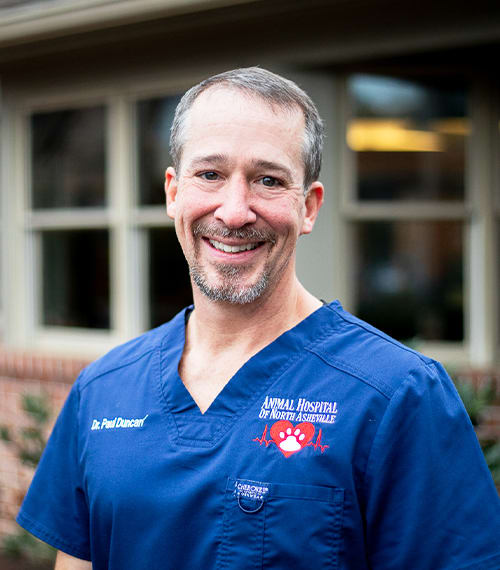 About Dr. Duncan
A native of Florida, Dr. Duncan finds veterinary medicine very rewarding. He most enjoys seeing clients express their joy and happiness when their pets are healed through with our care.
As an undergraduate, Dr. Duncan attended the University of South Florida and received his Bachelor of Science in Biology in 1997. He continued his education at the University of Florida College of Veterinary Medicine where he was awarded his Doctorate of Veterinary Medicine in 2002. Dr. Duncan is interested in all aspects of veterinary medicine, but he has a special interest in internal medicine, preventive health care, and surgery, including soft tissue surgery, orthopedics, endoscopy, video otoscopy, and laparoscopic procedures.
He is a member of the American Animal Hospital Association, American Veterinary Medical Society, North Carolina Veterinary Medical Association, Veterinary Information Network and is a certified Fear Free Professional.
Dr. Duncan's furry family includes Rabbit (Boston/Chihuahua mix) and Maverick (Boxer), both rescued. Outside the hospital, Dr. Duncan and his wife, Dr. Susan Wootten, love to travel, garden, and enjoy outdoor sports. He is also an avid supporter of the Florida Gators!