As a life-long animal lover, Fear Free Certified veterinarian Dr. Susan Wootten is dedicated to providing quality, compassionate veterinary care to her patients at our Asheville animal hospital.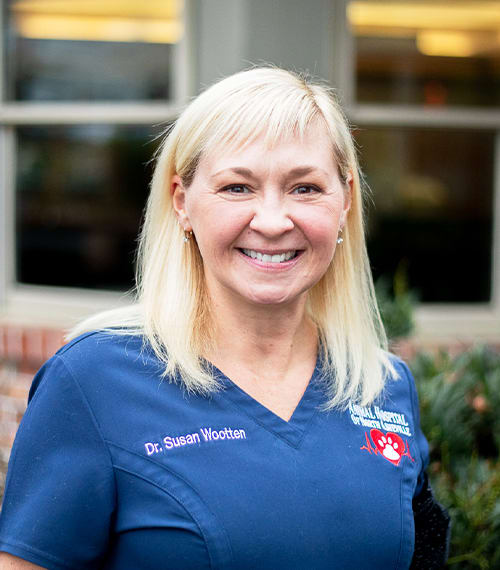 About Dr. Wootten
Dr. Susan Wootten who joined the AHNA family in 2002, grew up in Savannah, GA. She has had a lifelong love of animals. That combined with a strong affinity for sciences led her to veterinary school.
As an undergraduate, Dr. Wootten attended the University of Georgia and graduated cum laude with her Bachelor of Science in Biology in 1998 from Georgia Southern University. She continued her veterinary education at the University of Georgia College of Veterinary Medicine and was awarded her Doctorate of Veterinary Medicine in 2001. Prior to and while attending UGA, Dr. Wootten was a veterinary technician for many years. Following veterinary school, she completed a rotating small animal internship at the University of Georgia Veterinary Teaching Hospital.
Dr. Wootten enjoys all aspects of veterinary practice but is especially fond of internal medicine, preventative care, and cuddling new puppies. She loves interacting daily with her long-standing clients and welcoming new clients into the family. She is a member of the American Animal Hospital Association, American Veterinary Medical Society, North Carolina Veterinary Medical Association, Veterinary Information Network and is a certified Fear Free Professional . Dr. Wootten was nominated by her clients as Veterinarian of the Year in Petplan's 2016 Veterinary Awards.
Dr. Wootten and her husband, Dr. Paul Duncan, enjoy all of the outdoor activities that Asheville has to offer. Their two dogs, Rabbit and Maverick, and daughter, Macy Coco, complete a full and fun-filled household!