As a Fear Free Certified veterinarian at the Animal Hospital of North Asheville, Dr. Amy Plankenhorn has cared for pets at the hospital since 1987.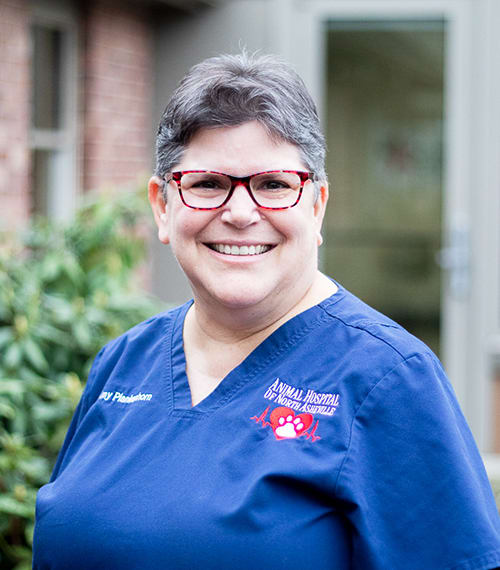 About Dr. Plankenhorn
Dr. Plankenhorn grew up in Decatur, GA, near Atlanta. She loves being a veterinarian because it gives her the chance to explore her interests in science and medicine and strengthen the bond between pets and their people.
As an undergraduate, Dr. Plankenhorn attended the University of Georgia, where she majored in Zoology. Accepted into the University of Georgia College of Veterinary Medicine in her junior year, she was awarded her Doctorate of Veterinary Medicine in 1987. Oncology, ultrasound, endoscopy, soft tissue surgery and feline medicine are among her many professional interests. Dr. Plankenhorn is a member of the Asheville Humane Society Leadership Circle and the American Association of Feline Practitioners. She is also a member of the American Animal Hospital Association, American Veterinary Medical Society, North Carolina Veterinary Medical Association, and Veterinary Information Network. Dr. Plankenhorn is also certified as Fear Free Professional.
Dr. Plankenhorn's pets - Ben, Jerry, and Tommy, a trio of orange tabbies that are really good at being couch potatoes - provide her with spirited companionship. In her free time, Dr. Plankenhorn enjoys a number of varied pursuits. She can be found out on the golf course, hiking in the woods, working in her garden or practicing yoga. She also is a member of the Asheville Symphony Chorus.