Fear Free Certified Veterinarian Dr. James Earley brings his life-long love of animals to bear in his work with each patient he sees at our North Asheville animal hospital.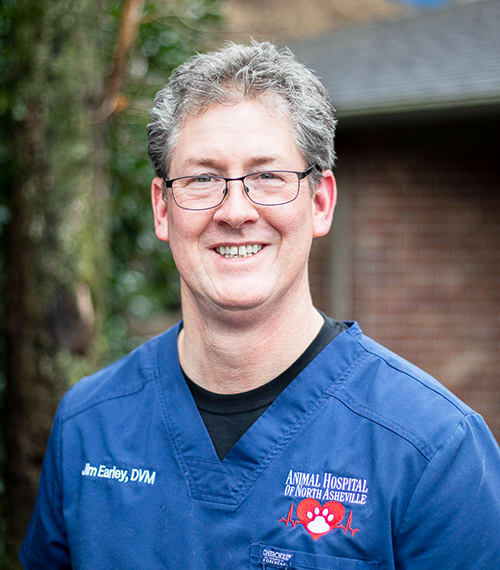 About Dr. Earley
Jim Earley spent his childhood on a lake in Georgia with two brothers and their lucky Labrador Retrievers. The boys and the dogs were always together and the dogs were joyous participants of all sorts of antics in the water. In high school, Jim's curious mind and affinity for science resulted in numerous awards in science and at science fairs. He pursued his love of science at the University of Georgia as an undergraduate and graduated with a B.S in biology in 1986. Veterinary medicine was a natural career choice because it combined his love of animals and science. Dr. Earley was accepted into the Veterinary College at the University of Georgia, graduating Cum Laude in 1991 with a Doctor of Veterinary Medicine degree. Even though it was not required, Jim wanted to learn even more, so he applied to and was accepted into the rotating internship program in small animal medicine and surgery at Texas A&M University where he furthered his knowledge of veterinary medicine.
After completing his internship, Jim entered into private practice in Birmingham, AL where he cared for patients for six years. In 1998, Jim joined the team at Animal Hospital of North Asheville and devoted himself to his patients for 15 years before making the necessary move to West Virginia to better care for family members. While in West Virginia, Jim practiced in Huntington, WV until he returned home to Asheville and AHNA.
Jim's special interests are ultrasound, endoscopy, cardiology, ophthalmology, and surgery. He also loves general practice because he enjoys getting to know people and helping them prevent problems and diseases in all stages of their pets' lives. Jim enjoys the challenges that veterinary medicine presents each day as he tries to give the very best care to each patient. He believes that each pet is a special and unique being and knows that likewise, each pet's illness may require special expertise to make a diagnosis. Jim is thrilled by the advances that have been made in veterinary medicine and enjoys always keeping up with what is new. Most of all, he is happy that so many people today, especially in Asheville, recognize and appreciate the important role that pets play in our lives.
Dr. Earley is a member of the American Animal Hospital Association, Asheville Humane Society Leadership Circle, American Veterinary Medical Association, and the North Carolina Veterinary Medical Association. He is a proud certified Fear Free Professional.
Dr. Earley and his wife Georgia have several beloved pets. Their pets are their kids and there is absolutely nothing that he would not do for them. Each of their kids is a rescue and each has a great story of how they came to live with Georgia and Jim. At present, the Earley clan includes dogs and cats. When not at work, he enjoys fly fishing, mountain bike riding, and grilling.