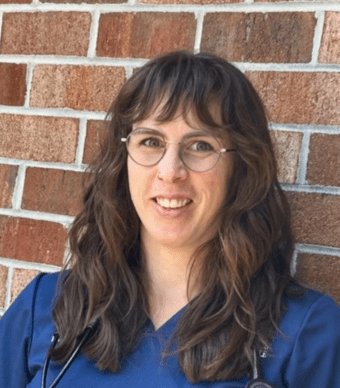 About Dr. Jamie Winokur
As a third-generation veterinarian, Dr. Jamie Winokur feels fortunate to have experienced an upbringing surrounded by veterinary medicine. It was her passion for science as well as her desire to help animals and the people who care for them that led her to pursue veterinary medicine. 

Dr. Winokur grew up in Atlanta Ga. She majored in Ecology at the University of Georgia, pursued a Master of Public Health in Epidemiology at Georgia State University, and then attended the University of Georgia's College of Veterinary Medicine, where she graduated summa cum laude. 

Dr. Winokur's interests include client education, preventative care, community health, and emergency medicine.  She enjoys helping people provide the best care possible for their four-legged family members.   

Jamie & her husband are happy to be back in Southern Appalachia, appreciating all that Western North Carolina offers. They enjoy hiking, mountain biking, attending live music, and visiting restaurants/ breweries around the area.  Their Great Pyrenees, Rowlf, is happy to tag along for adventures around town; Rowlf is always accepting pets and attention.  At home, their calico littermates, Alice & Kahlia, are usually found sunbathing, playing, or sitting on laps.