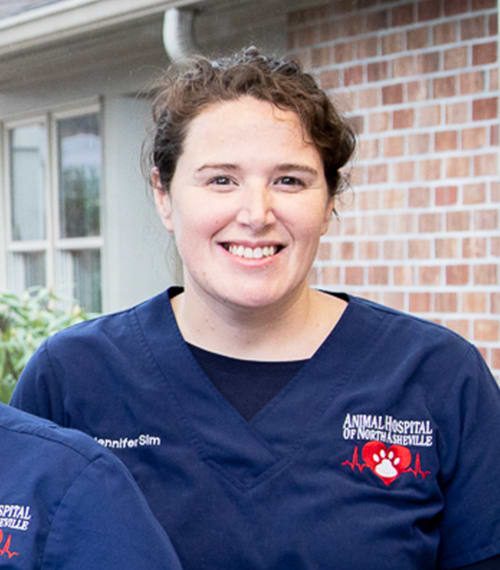 About Dr. Jennifer Sim
Dr. Jennifer Sim, who has been undergoing advanced training in veterinary dentistry and oral surgery since 2006. Dr. Sim, along with doing routine dental procedures, will be able to perform some even more advanced procedures such as root canal therapy, placement of crowns, correction of painful bite abnormalities due to misalignment, cleft palate and large oronasal fistula repair, advanced treatment of jaw fractures and salivary gland diseases.
Dr. Sim joins us after ten years at Bolton Veterinary Hospital in Bolton, CT where she not only provided dental services and oral surgery but also worked in emergency, intensive care, and general veterinary medicine. She received a BA in Biology from Mount Holyoke College in 2000 and her VMD from the University of Pennsylvania in 2004. Dr. Sim has been a member of the American Veterinary Dental Association since 2006.
Dr. Sim is thrilled to be living in Asheville and very thankful to have found a practice that already offered outstanding dental care and oral surgery and has the latest equipment. The quality of care at AHNA attracted Dr. Sim to our practice and she very much appreciates having the assistance of our experienced and skilled staff. She is especially thankful to have her patients cared for so gently and with such attention to detail.
When she is not at work, Dr. Sim is caring for her two young children, Marion and Brandon. Other members of her family are Hank and Idris, her dogs, and her cats, "Red Cat', and L.J.